01
Procedural Incarnation
D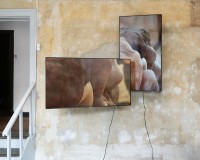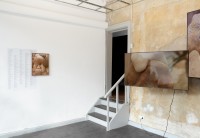 2023 Two-channel video, full HD, 08:40 min / 12:00 min. Pigment print (50 x 40 cm), vinyl wallpaper (60 x 90 cm).

In the postmodern, the body and its image become malleable. Its position as a natural object is rightly examined and questioned in relation to cultural, scientific, political or economic factors. Therefore, contemporary body images must accordingly be understood as sociotechnically constructed images. New tools, such as artificial intelligence and three-dimensional simulations, are an addition to the media landscape and at the same time a challenge for the medium of photography. Real-time game applications such as "metahuman" already show simple ways to create human bodies and identities. These approaches are mostly based on statistical variations to describe and give meaning to the appearance of the human body. However, artificially created bodies are not a unique feature of today's computer games. They can be found in socio-technical networks, films, music videos or magazines. In the process, they are highlighted as bodies of art or are completely integrated into other conventional forms of representation. Precisely these phenomena and the new imaging techniques are taken up in the work. At the same time, these circumstances and developments are subverted by dispensing with normative-organic organisation and common representation of the human body.
02
Body Options II
D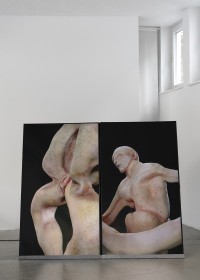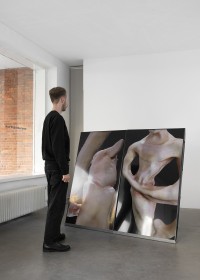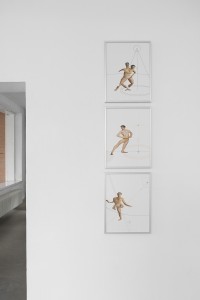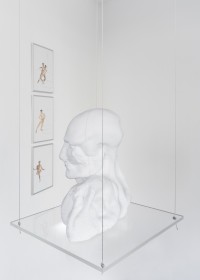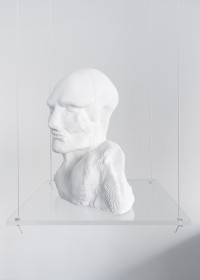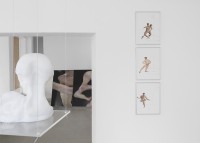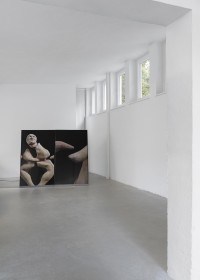 2022 Two-channel video (40:00 min, 65"), Image series (40 x 30 cm), 3D print bust (PLA, 35 x 30 x 20 cm), acrylic glass plate (40 x 40 x 1 cm).

»Body Options II« (2022) is the latest installation by Mateusz Dworczyk, which was on display at Kiel's art association »Kunstraum B«. In his transmedial practice, the media artist explores the interplay between technology, the human body, and its pictorial representation. The focus lies particularly on photo-based digital imaging techniques such as machine learning and 3D technology. The work is built on the subset of results of an artificial neural network (trained on a self-created data set of ballet dancers) which contains outcomes that are usually defined as errors in the image-generating process. Those »errors« are then translated into three-dimensional space by using 3D-Software.
The images of these sculpted bodies appear in competition with normative body representations and the subjective body images of the visitors themselves. They infest the exhibition space, materialise, and affect the viewer. They show the power and impact of immaterial transclassical machines like artificial neural networks and remind us that technical instruments, apparatuses, and systems have always had anthropological relevance and a considerable influence on the idea of the human body, its function, form, and image.
»Body Options II« opens up a space of imagination that oscillates between present possibilities and future scenarios. However, neither angstlust-rhetoric (the pleasure of fright) nor fear of technology is the subject of the work. But rather the question of the omnipresent relationship between technology, the human body, and the ever-changing image of the body. Dworczyk aims to question the functional logic of technology which is transferred to the body. His work tries to visually oppose the inherent tendencies of standardisation, optimisation, and utilitarianism, as well as the organisation of the body into an organism through the artistic examination of a body without organs.
03
Body Options I
D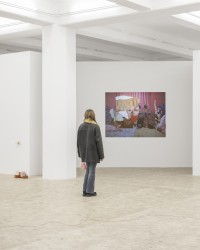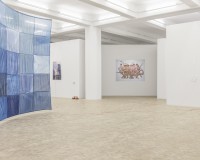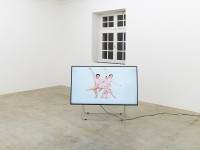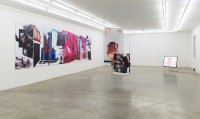 2021 Single-channel video projection (2 x 1,5 m, 05:35 min), dancers: SueKi Yee, Christopher Carduck, sound assistance: Christian Werner Sierra.

04
Witness to the (digital) world
F/D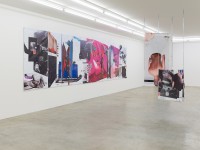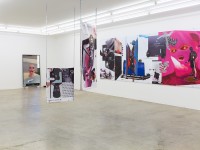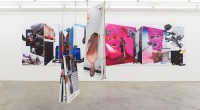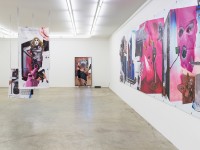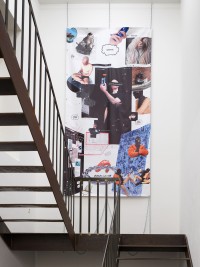 2020. A series of screenshot-compositions (digital print on PVC banner 1,7 x 6,4 m and 1,7 x 3,2 m folded as objects).

Fleckstein/Dworczyk contrasts anonymity with prominence and self-presentation in social networks. By including one's own self-image (selfie), as well as using the aesthetics of social software interfaces, the romanticised image of the uniformed individual is to be negated.
05
Room on display
F/D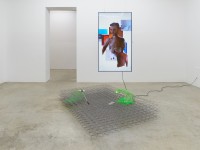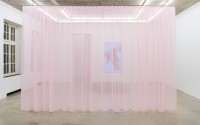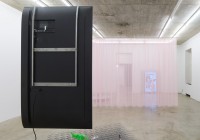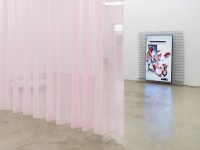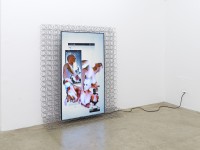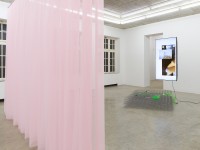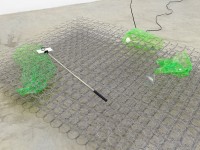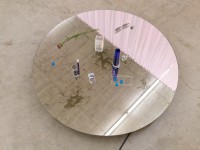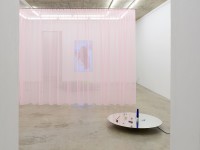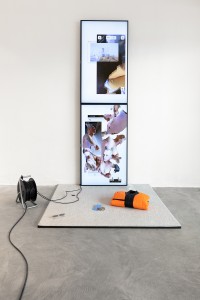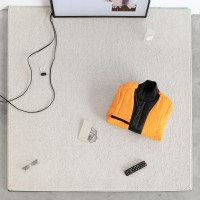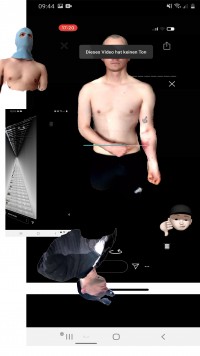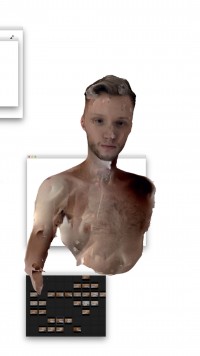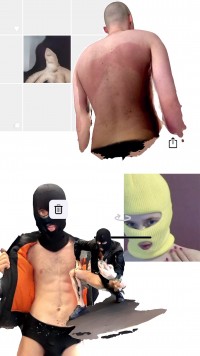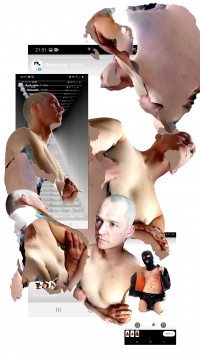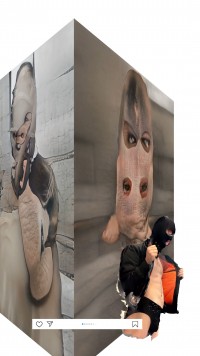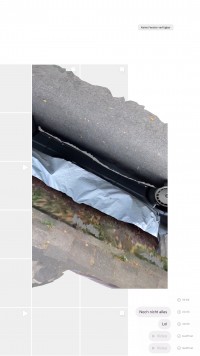 2020 Installation NAK: two-channel video/sound loops (03:40, 04:14 min) on two screens (55"), mattresses innerspring, mirrored revolving stage, Pfizer pills, glass and mirror smartphones (5.8") and various personal objects. Installation Futur3: two-channel video/sound loops (03:40, 03:00 min) on two screens (55"), white carpet (140 x 140cm), glass and mirror smartphones (5,8"), MA1 jacket, cable drum as well as various personal objects.

»Fake people with fake cookies and fake social-media accounts, fake-moving their fake cursors, fake-clicking on fake websites.« (Read; 2018) — Through a dialogic approaches, our related subjects are united in this two channel video installation. The idiosyncratic narrative tries to describe everyday turnarounds that usually go unnoticed. The interplay with these boundaries (and their reversal) is adopted in the spatial arrangement. In addition to commonalities in content, formal aspects of digital cultural techniques are addressed through the manipulation of digital surfaces.
06
Tiktok deleted it
F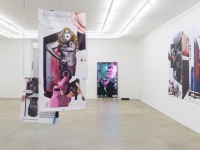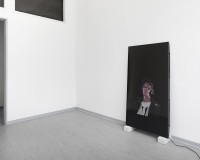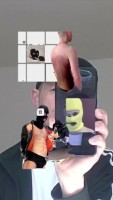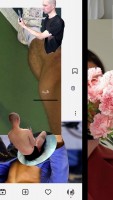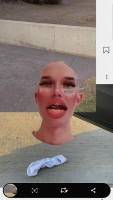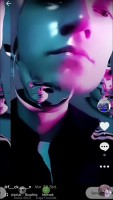 2021 Video/sound loop (02:40 min), screen (75"), white bricks.

07
Abgefuckt liebt dich
F/D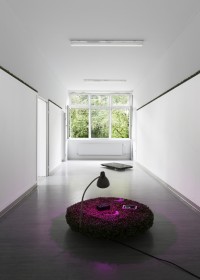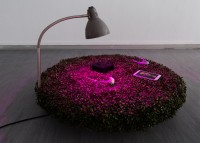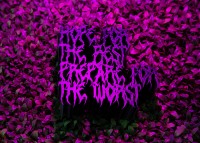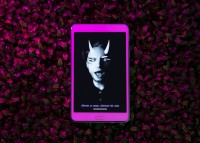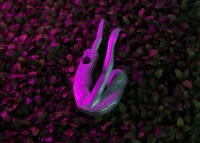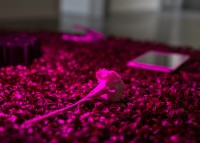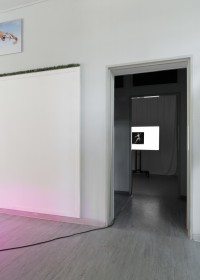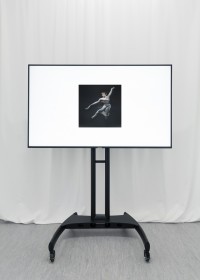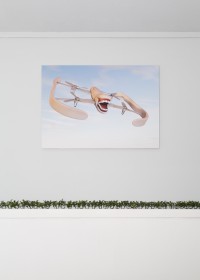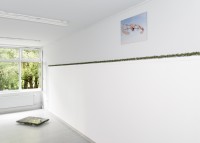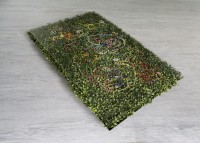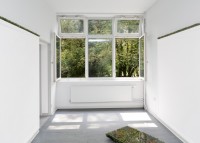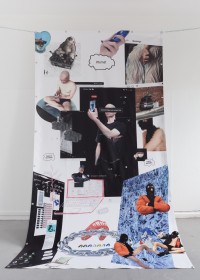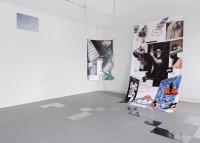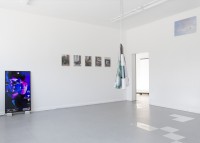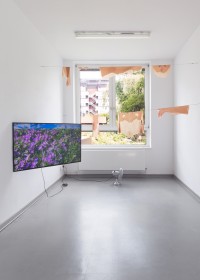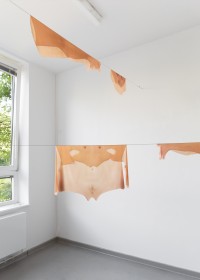 2021 Self-organised group show with Malin Dorn and Ramona Kortyka. Exhibition view: Atelier Umraum, Alte Mu Kiel (2021).

Digitality can no longer be regarded as a parallel structure or a mere extension of our world. The digitality that surrounds us is an integral, interwoven and influential part of all areas of life. For this reason, it is a mistake to believe that it is possible to escape the digital environment or to simply turn it off like a program. In this joint exhibition the multimedia artists address precisely these circumstances by focusing on code-based technologies, socio-technical networks and phenomena of a culture of the digital.
08
Room for two
D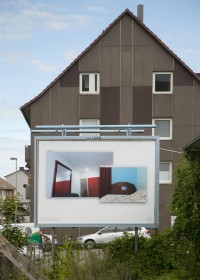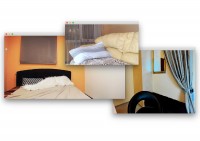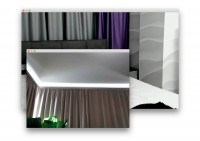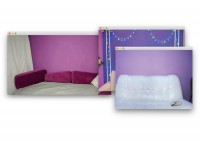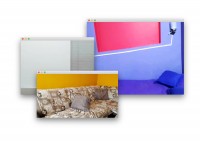 2019 — ongoing. A series of screenshot-compositions.

Focusing on phenomena of the presentation of self in everyday life and the question what part the real-time frame-medium »Internet« plays in this context, this work is dedicated to a special form of digital staging. This includes live webcams and especially sex webcams. The Focus lies on the arising elusive situation. The viewer is confronted with an overwhelming array of stagings and windows from all over the world. They allow a glance into supposedly private housing-situation. The screen recording has been used to capture a brief moment in which no person was in the picture. The fluid real-time image has become a photographic snapshot. The Internet has become a place of self- and external representation with elusive, ambiguous boundaries between private and public spaces.
09
Deus Ex Machina
F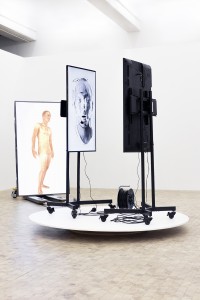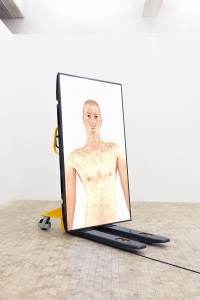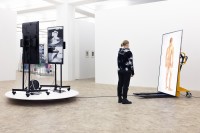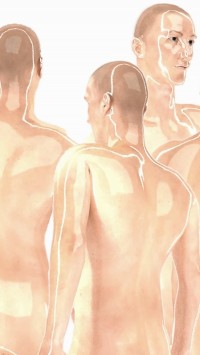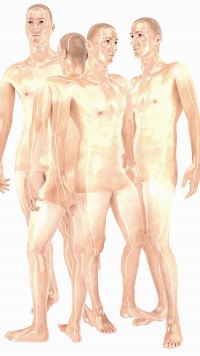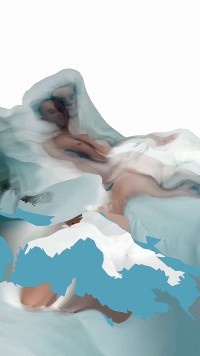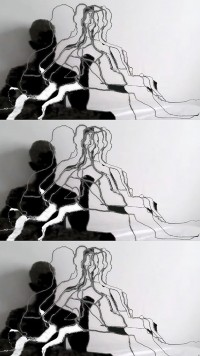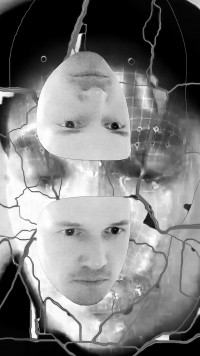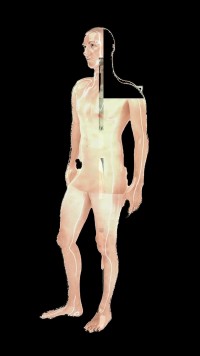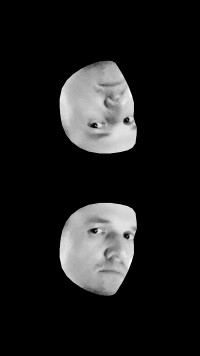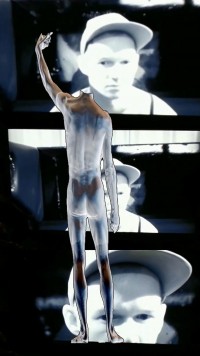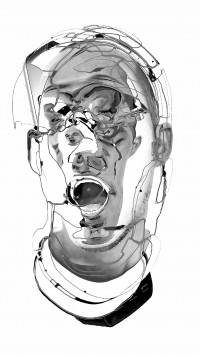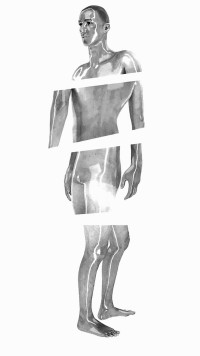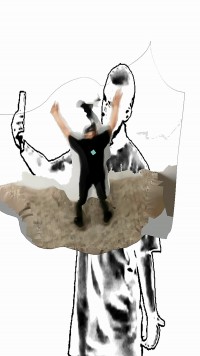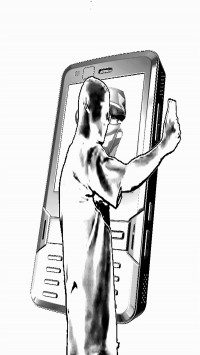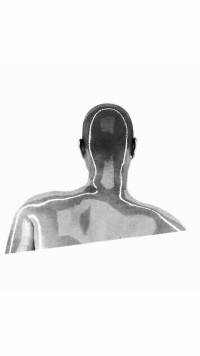 2019 Installation: Various screens, revolving stage, high lift truck, cable drum. Video/sound loops (7:05, 05:49 and 04:33 min).

»[...] Artistic metaphors of reflection and self-representation appear often in his work. There is an echoing of parallel worlds, of superimpositions, doubled, reversed and negative images, whose quick movement recalls the rhythm of pop media landscapes, glistening with mirrored sculptural surfaces. Yet it is the weight of the human body which is at the center of [this] work, as a dancer, as a ghost, a lover, an object of war or a simulation of identity culled from the internet. The body as mediated image pulsating with themes of violence and sensuality becomes a site for the negotiation and construction of individual identity and the nature of representation itself. It is in his most recent work, »Deus Ex Machina« that Hannes Fleckstein effectively refines his ideas in a complex installation involving an industrial loading cart, a power cable reel and digital display screens in varying sizes playing sound and film loops in differing states of polymorphic manipulation. An autobiographic face, alternatively appearing with a mask or in negative, on a retro cell phone, looping through transformations and permutations at multiple angles and perspectives. The industrial metallic cart functions as both container and prop, supporting the displays and delineating the surrounding space. The installation is at the same time threatening and strangely familiar: these are the tools of self-optimization and digital narrative. It is a work which draws one inside while remaining at a critical distance.« Extract from the text by Arnold Dreyblatt for the catalogue published on the occasion of the exhibition. ISBN 978-3927979-94-9
10
Homo Ex Machina
F/D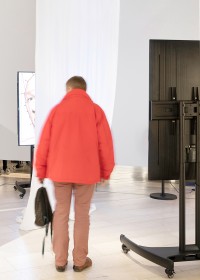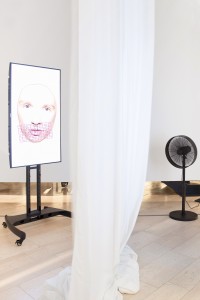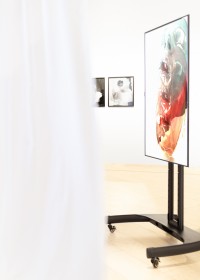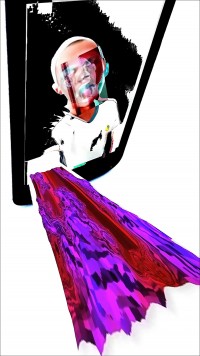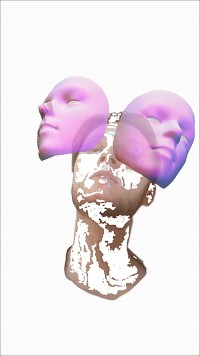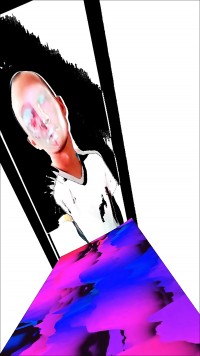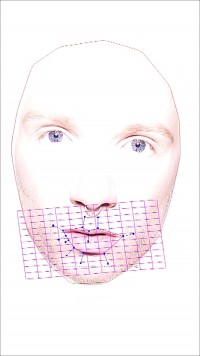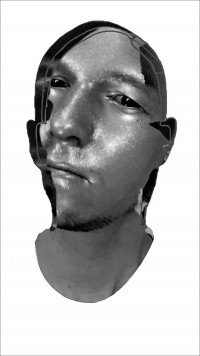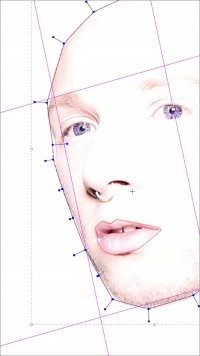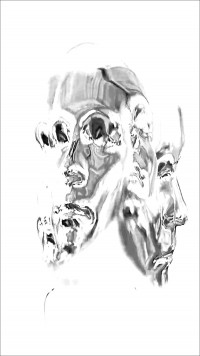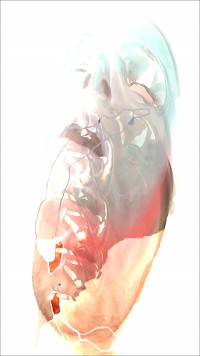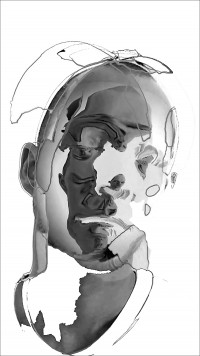 2019 Installation: Two screens (55"), white curtain, black ventilator. Video/sound loops (04:00 and 05:50 min).

This work is committed to various questions of identity: How do we define and present ourselves, how do we communicate these identities in digital spheres? Fake lifestyle in social media is becoming the norm, the pressure of self-optimisation is turning into an overkill and the simulated perfection is transforming individuals into performative identities. Once everyone can display, shape and change their own faces, everyone becomes a star in their own reality show. Have those identities now reached a new peak or are there other goals they will reach with their digital performance? Starting from these questions, we think about our own digital narrative. The excess of perfect postings evokes a desire for trash, naivety and ugliness.
11
Memeclassworldwide
D
2019 — ongoing. Collaborative projec. Detailed information under memeclassworldwi.de and on Instagram memeclassworldwid and mcww.club

memeclassworldwide is an autonomous class initiated by Ramona Kortyka, Mateusz Dworczyk and Juan Blanco within the art academy. The starting point for this project was Dworczyks bachelor thesis (»Memes, the digital instigator: The social quality of the comic based on an internet phenomenon.«) in 2019.
Since then the artists organize research retreats, exhibitions, courses and workshops. Based on the Internet as a reference space, the class investigates post digital phenomena across their aesthetic, social and political dimensions, and integrating these investigations into practices of teaching and exhibiting. memeclassworldwide also collaborates with Bernhard Garnicnig, a PhD researcher involved in the project »Institutions as a Way of Life« (Institute of Experimental Design and Media Cultures at Academy of Art and and Design in Basel).
In picture: Videostills from »memeclassworldwide video tutorial dokumentation«, contribution to the exhibition »escaleras futuras« in Galeria Santa Fe, Bogotá
12
Dianthus II
F/D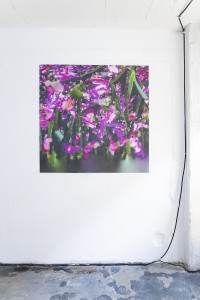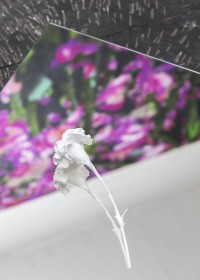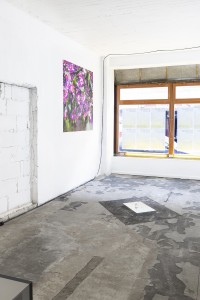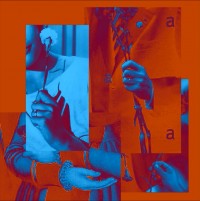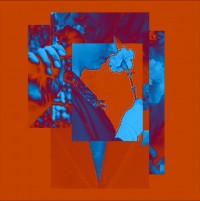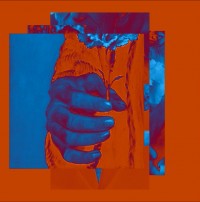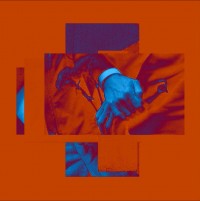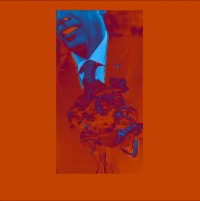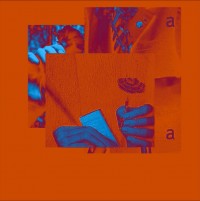 2019 Installation: photogrammetric texture, 3D printed carnation, mirror base and found footage video collage (01:10 min).

Proceeding from Dianthus I (2018), this work expands the investigation on the sign towards a general question of the referentiality. The carnation is used as a sign in very different contexts and social classes for centuries. In "Dianthus II" the flower is presented as a 3D object. It is stripped of its nature, digitised and medially doubled. By being placed on the mirror base, the relationship between the technical copy and its reflection is addressed. The found footage was subjected to a similar treatment: It was cropped and reassembled, so that the origin and the context of the image remain hidden. With this formal and medial interplay, the work tries to point towards a lack of reference systems since modernity.
13
Es gibt die dinge
F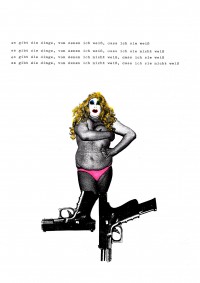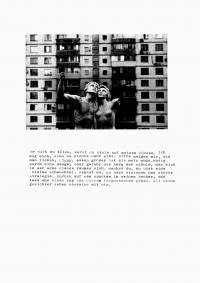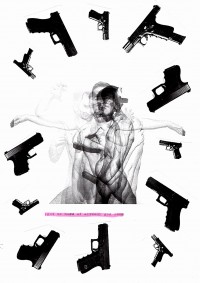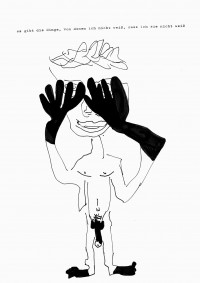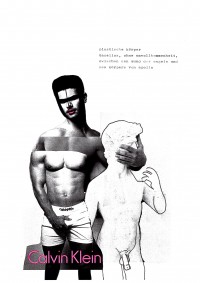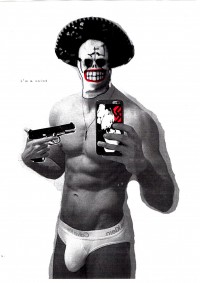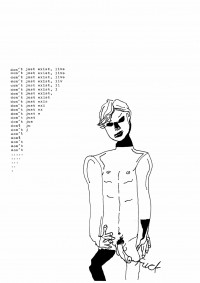 2016 — ongoing. Texts and collages: paper, pencil, fine liner, felt pen, photographs, typewriter.

»es gibt die dinge, von denen ich weiß, dass ich sie weiß. es gibt die dinge, von denen ich weiß, dass ich sie nicht weiß. es gibt die dinge, von denen ich nicht weiß, dass ich sie weiß. es gibt die dinge, von denen ich nicht weiß, dass ich sie nicht weiß.«
14
Dianthus I
F/D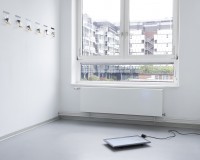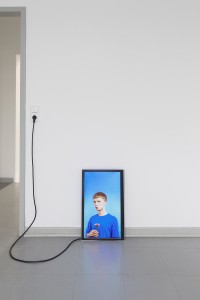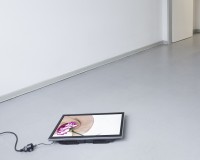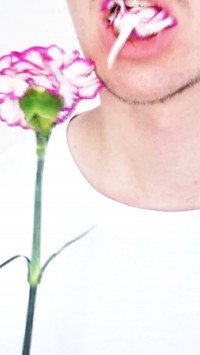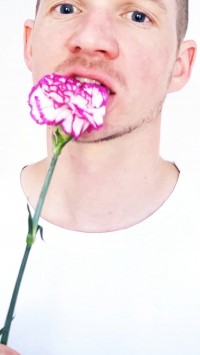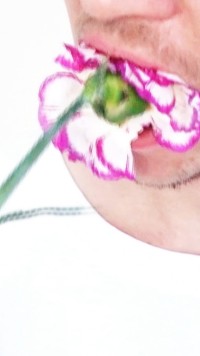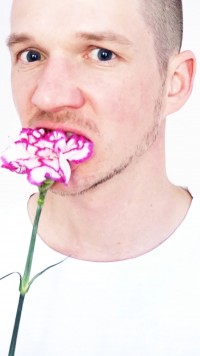 2018. Installation: fresh flowers, urine, cellophane bags, tape, dipping wax. Picture: Digital colour photography »Selfportrait With Carnation« and video loops (32").

Throughout history, the floral symbol of the carnation has undergone more than one about-turn: from the peasant symbol of honour and love, via a resistance symbol of the nobility during the French Revolution, to the sign of the labour movement. The work attempts to detach the sign from its connotations and to renew the flower's description. In the course of this the emphasis is put on the special relationship beetween the portrait oft the flower and the artist's self-portrait. The carnation becomes the catalyst for a dialogue between two artists with different nationalities from working class families.
15
Scvril
F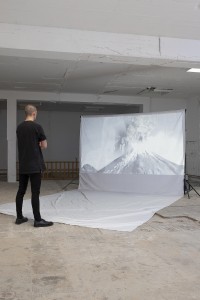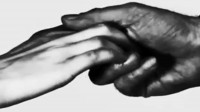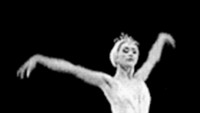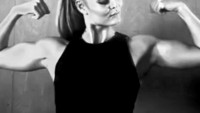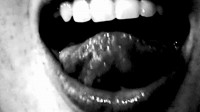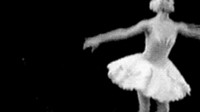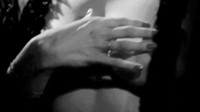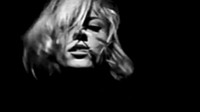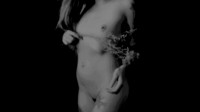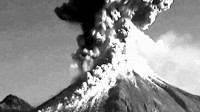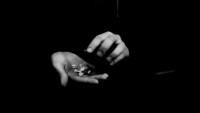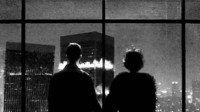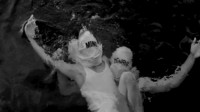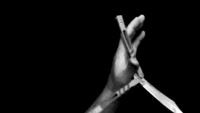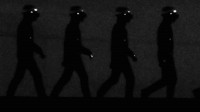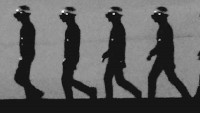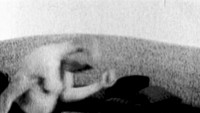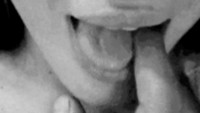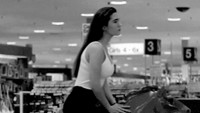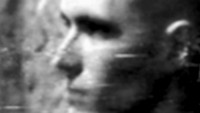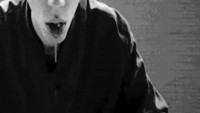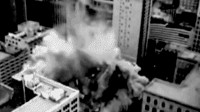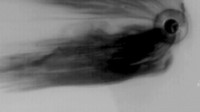 2017 — 2018. Digital Video-Sound-Collage using found footage, own film material and self-composed sound (5:47 min).

Photographs and videos from social networks, news, online portals and feature films that show the everyday media world and subtly try to undermine reality. Through alienation and editing, the images are ripped from their predetermined form and mixed with their own footage.
16
Wetsolution
F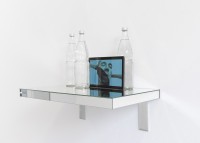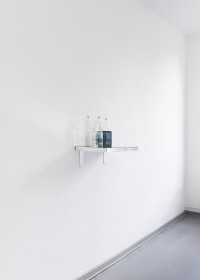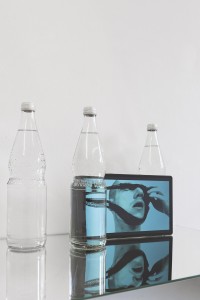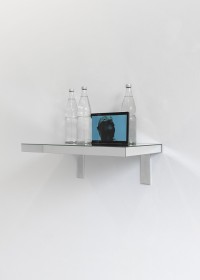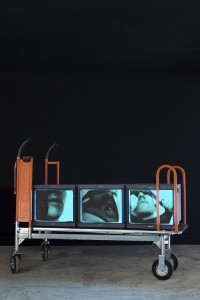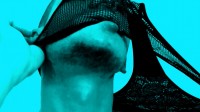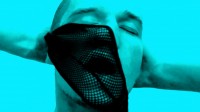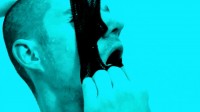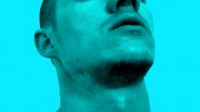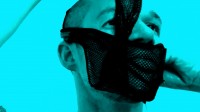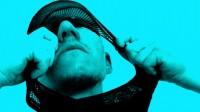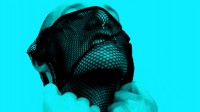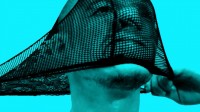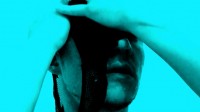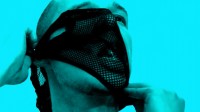 2017. Video Performance: water, used slip (video/sound loop 00:34 min).

It is what it is. A wet dream. It is what it is...
17
Boxes
F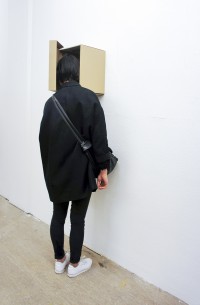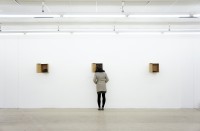 2015. In collaboration with Anne Sensel. Sound Installation: 3 cardboard boxes, speakers, Players and sound tracks. Exhibition view: Offspace Schlecker, Kiel-Gaarden.

Boxes isolate and dissect conversations with people in Kiel Gaarden who have experienced exclusion from society, for example through family misfortunes or drug consumption. The presentation in individual boxes is an attempt to reflect the vacuum in which these people are situated. In each box, different soundtracks can be heard. In these, Fragments of words are condensed through repetition and overlapping in order to reveal the reasons for their misfortunes.
Hannes Fleckstein
Mateusz Dworczyk
Hofstraße 1
DE — 24143 Kiel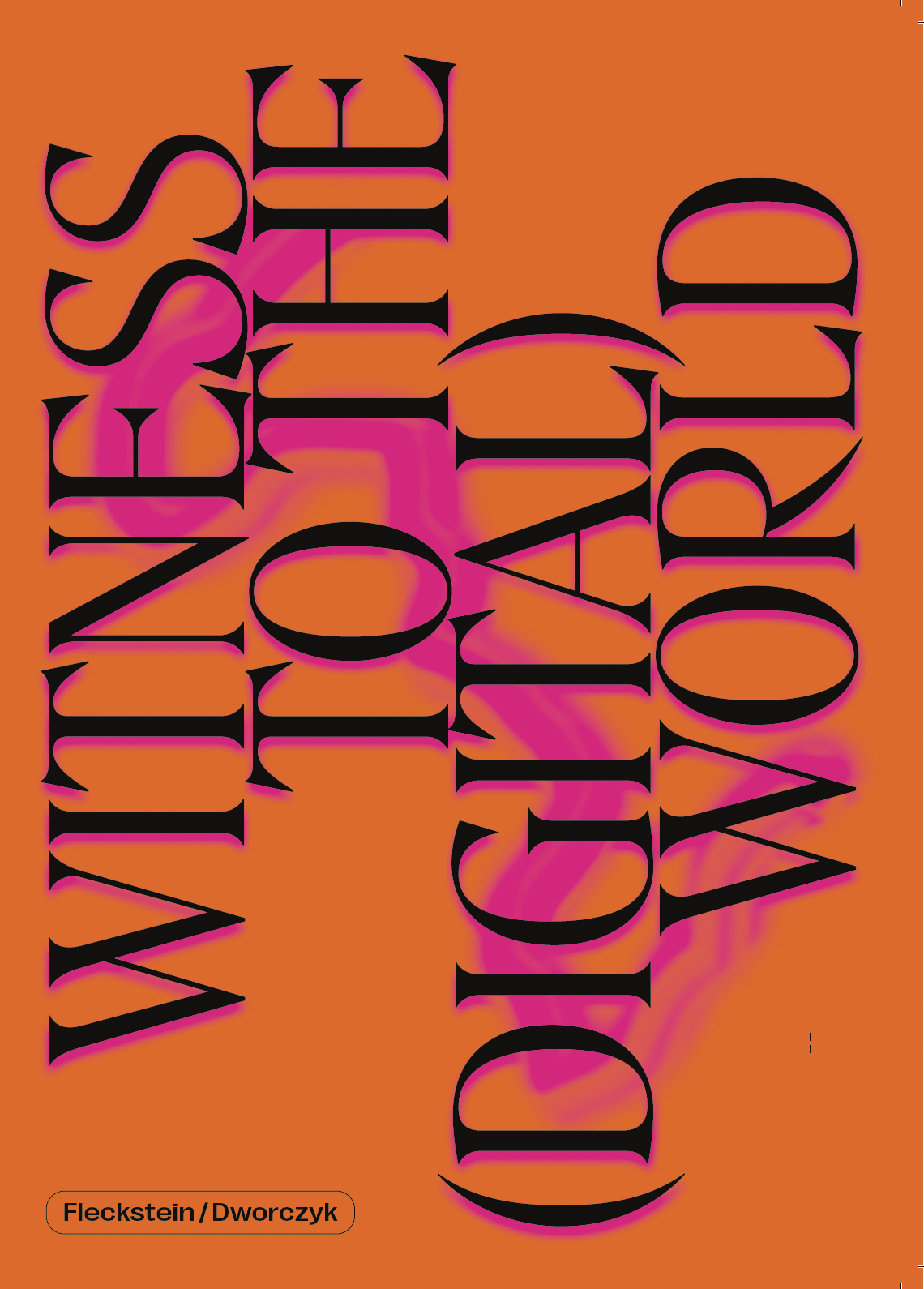 FLECKSTEIN / DWORCZYK: Witness to the (digital) world.
Eds.: NAK Neuer Aachener Kunstverein, Hannes Fleckstein, Mateusz Dworczyk.
Text: Peggy Schoenegge (English).
Design & typesetting: Káschem Büro, Insa Kühlcke-Schmoldt & Nina Massow.
2022, Softcover, thread binding, 20 x 20 cm, 86 pages, 30 color plates, first limited edition of 100.
ISBN: 978-3-929261-99-8 / Purchase on request / 28 EUR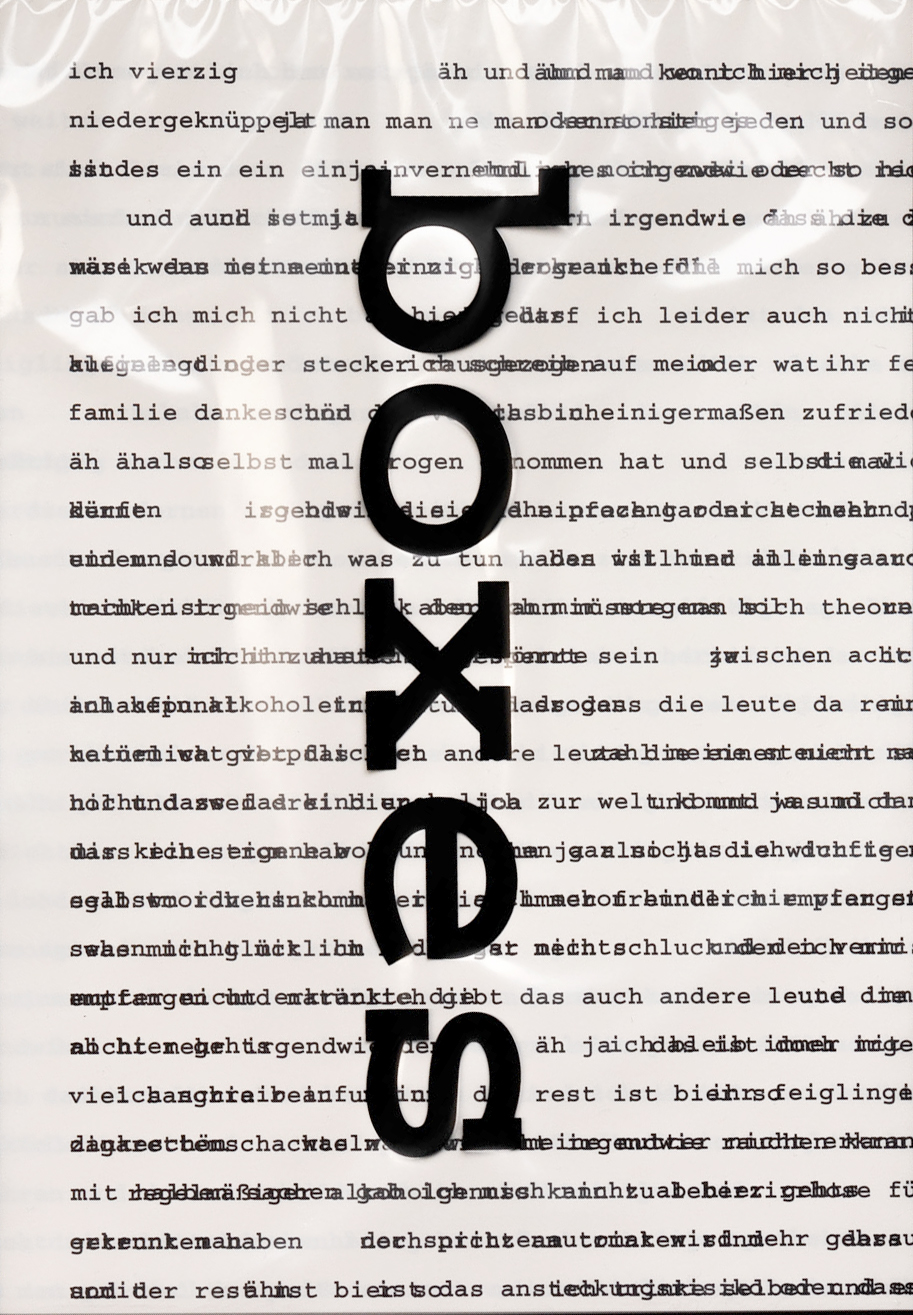 boxes
Eds.: Muthesius University of Fine Arts and Design, Annette le Fort, Arnold Dreyblatt
Text: Transcription of the sound artwork by Anne Sensel and Hannes Fleckstein (German).
Concept: Hannes Fleckstein, Kristin Neve. Design & typesetting: Kristin Neve
2019, Screen-printed plastic bag cover, 28,7 x 20 cm, 12 pages, Synthetic fibre paper, edition of 100.
ISBN: 978-3-943763-80-5 / Purchase on request / 28 EUR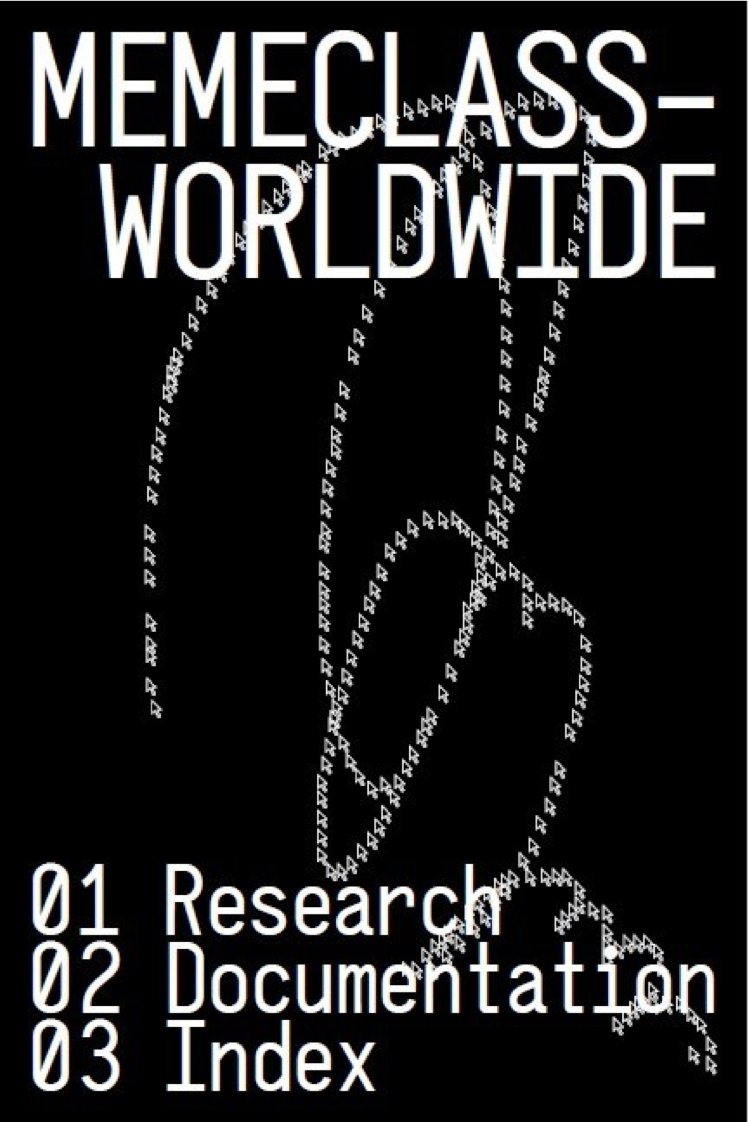 MEMECLASSWORLDWIDE: Research, Documentation, Index
Eds.: Ramona Kortyka, Mateusz Dworczyk, Juan Blanco, Bernhard Garnicnig
Text: Bernhard Garnicnig (English).
Design & typesetting: No Talent Studio.
2021, Softcover, perfect binding, 24 x 16 cm, 224 pages, various color plates, first limited edition of 80.
Purchase on request / 35 EUR
Fleckstein/ Dworczyk opened a common dialogue in 2018, from which various artistic works have emerged. The current use of images as a representation of individuals or groups and its power to shape societal issues or political reality in everyday life is usually the starting point for the work of both artists. Fleckstein and Dworczyk´s aim is to see the image and its medium in a continuous social and technical change and the criticall reflection on it. The work and its installations try to create new spaces of association and tension. They also raise questions about the meaning and origin of the image as well as the discrepancies between non-digital and digital reality in our image-based culture.
Hannes Fleckstein
July 1985
Greifswald, Germany
2014 — 2017
Bachelor of Fine Arts (Media Art) under Prof. Arnold Dreyblatt, Sabine Hornig and Prof. Dr. Wolfgang Bock
2018 — 2022
Master of Fine Arts (Media Art) under Prof. Arnold Dreyblatt
2019 — 2020
Master of Fine Arts (Experimental Design) at the UFG Linz under Prof.In Anna Jermolaewa
10. 2020
Work and study visit at Escola Maumaus, Lisbon
06. — 09. 2021
Artist in Residence at Otte 1 Künstlerhaus Eckernförde
Mateusz Dworczyk
2015 — 2019
Bachelor of Arts (Photography) under Prof. Peter Hendricks and Prof. Dr. phil. habil. Petra Maria Meyer at Muthesius University of Fine Arts and Design
2019 — 2022
Master of Arts (Photography) under Prof. Peter Hendricks and Prof. Dr. phil. habil. Petra Maria Meyer at Muthesius University of Fine Arts and Design
2019 — 2022
Scholarship at the Hans Böckler Foundation
10. 2020
Work and study visit at Escola Maumaus, Lisbon
+
2021 &nbsp &nbsp
»witness to the (digital) world«, NAK Neuer Aachener Kunstverein, Aachen
2021 &nbsp &nbsp
»abgefuckt liebt dich«, Atelier Umraum, Alte Mu, Kiel (organizer and exhibiting artists)
2020 &nbsp &nbsp
»Turn of the tide« group exhibition, Futur 3 Festival, Kiel
2019 &nbsp &nbsp
»66. Landesschau BBK SH«, Schloss Gottorf, Schleswig
2019 &nbsp &nbsp
»1949.1985.1994«, Flämische Straße, Kiel (organizer and exhibiting artists)
2018 &nbsp &nbsp
»Von hier sieht alles ganz anders aus« during »Museumsnacht«, Alte Mu, Kiel
Dworczyk
2023 &nbsp &nbsp
»an/ab/wesend« with Keita Morita, Gallery Cubeplus, Kiel [d]
2022 &nbsp &nbsp
»Mache mir einen Menschen!«, Kunstraum B, Kiel [s]
2022 &nbsp &nbsp
»What Can Artists Do Now?«, Galerie Elisabeth and Klaus Thoman, Wien [g][mw]
2021/22 &nbsp &nbsp
»Gottfried Brockmann Preis«, Stadtgalerie, Kiel [g]
2021 &nbsp &nbsp
»Einhundert Geburtstagskerzen auf einer Buttercremetorte«, Oberbilker Allee 57, Düsseldorf [s][mw]
2020 &nbsp &nbsp
»Escaleras futuras«, Galeria Santa Fe, Bogotá [g][mw]
2020 &nbsp &nbsp
»Contact« group billboard exhibition in the city area of Kiel [g]
2020 &nbsp &nbsp
»Collection« group poster exhibition, Kunsthalle zu Kiel [g][mw]
2019 &nbsp &nbsp
»I didn't know it was that easy«, Prima Kunst Container, Stadtgalerie Kiel [s][mw]
2018 &nbsp &nbsp
»first revolution would be to change the way we look at things« Group performance with Yvon Chabrowski at Stadtgalerie, Kiel
2014 &nbsp &nbsp
»Jewish Life in Schleswig-Holstein« Group exhibition at Jewish Museum Rendsburg [g]
&nbsp &nbsp
[mw] = memeclassworldwide: collaborative project with Ramona Kortyka, Jennifer Merlyn Scherler and Juan Blanco
Fleckstein
2022 &nbsp &nbsp
»There ist another me in the world«, Künstlerhaus / Stadtgalerie Lauenburg [g]
2022 &nbsp &nbsp
»might delete it later«, Atelier Umraum, Alte Mu, Kiel [s]
2020 &nbsp &nbsp
»SchwarzWeißGrau«, Hilldegarden Galerie, Hamburg [g]
2020 &nbsp &nbsp
»Contact« group billboard exhibition in the city area of Kiel [g]
2019/20 &nbsp &nbsp
»Gottfried Brockmann Preis«, Stadtgalerie, Kiel [g]
2017 &nbsp &nbsp
»Museumsnacht«, Alte Mu, Kiel [g]
2016 &nbsp &nbsp
»Butcher Shop« at a former butchery, Kiel (organizer and exhibiting artist) [g]
2015 &nbsp &nbsp
»Sounds II« of the sound art workshop with Heiko Wommelsdorf at Hinterconti, Hamburg [g]
2015 &nbsp &nbsp
»Time capsule«, Anscharpark, Kiel [g]
2014 &nbsp &nbsp
»Ein Elefant für den Kaiser« performance during the performance-night, Theater Aachen
Copyright — The content and works published on this website are governed by the copyright laws of Germany. Any duplication, processing, distribution or any form of utilisation beyond the scope of copyright law shall require the prior written consent of the author or authors in question. In particular, third-party content is identified as such. Should you nevertheless become aware of a copyright infringement, please inform us accordingly. If we become aware of any infringements, we will remove such contents immediately.


External Links — Our website contains links to the websites of third parties. As the content of these websites is not under our control, we cannot assume any liability for such external content. In all cases, the provider of information of the linked websites is liable for the content and accuracy of the information provided. At the point in time when the links were placed, no infringements of the law were recognisable to us. As soon as an infringement of the law becomes known to us, we will immediately remove the link in question.


Data Protection — A visit to our website can result in the storage on our server of information about the access (date, time,page accessed). This does not represent any analysis of personal data (e.g., name, address or e-mail address). If personal data are collected, this only occurs – to the extent possible – with the prior consent of the user of the website. Any forwarding of the data to third parties without the express consent of the user shall not take place.We would like to expressly point out that the transmission of data via the Internet (e.g., by e-mail) can offer security vulnerabilities. It is therefore impossible to safeguard the data completely against access by third parties. We cannot assume any liability for damages arising as a result of such security vulnerabilities.The use by third parties of all published contact details for the purpose of advertising is expressly excluded. We reserve the right to take legal steps in the case of the unsolicited sending of advertising information; e.g., by means of spam mail.